Day 1: Guaymas
The flight was at 8 AM and we were supposed to get to the airport 2 hours early. That meant we had to get up before 5 AM. We got to the airport no problem but there are more lines than ever with the tight security. First we stood in the ticketing line for America West, then we had to stand in another line to check our baggage with federal agents. Then we had to stand in line to show our boarding pass. Then we had to stand in line to get through the metal detectors. Susan had to take her shoes off but not me.
Guaymas Airport, Gate, Baggage Claim

Still the lines all moved pretty quickly and we got to our gate with at least a half hour before they started boarding.

Uneventful flight to Phoenix. We had a 3-hour layover in Phoenix so we sat around there and had lunch (although it was 10 AM local time) and looked for the old people that would be taking the trip with us. There was a second flight scheduled at the same gate as our flight within 15 minutes of each other. I thought the other flight would go first but then we heard a flight attendent say they were boarding both aircraft through the same gate. I thought this was going to be some kind of wonder of technology to have the walkway connected to two planes but it just led to stairs and we walked onto the tarmac to a Bombardier turboprop plane.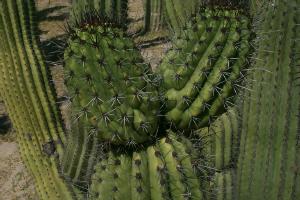 Cardon Cactus

It looked like it would hold maybe 12 people, but it actually held nearly 40. It was rough on the ascent and descent but most of the two-hour flight to Guaymas was smooth.

Guaymas has a nice airport. San Carlos is a resort town nearby so there is a lot of money being spent and there are as many signs in English as Spanish. We got through customs (they had a little traffic light with a button you would push and if you got a red light they inspected your luggage, but if it was green they didn't; Susan and I both hit on green).

We cleared Customs and got on the bus around 3. The driver said that we couldn't report to the boat until 5 so he took us around to San Carlos and the sights, sounds, and smells of Guaymas.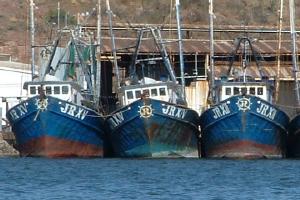 Idle Fishing Fleet

Actually it was all pretty nice. In San Jose we stopped at a cactus garden and saw some birds nesting there including a mockingbird and a yellow oriole. In Guaymas on the water we saw pelicans and frigate birds. The tour guide said mostly for recreating people in this area play baseball. They also fish. But they only can fish 8 months out of the year and we are in the 4 off months so the boats were all at dock. The area has a lot of low craggy hills of brown rock that are neat looking but it is pretty much desert.

When we drove up to the dock in the bus at 5:00 we saw a boat docked and we tried to figure out if it was ours. It looked rustier and dingier than in the pictures. Happily it wasn't ours and the Sea Voyager was as expected (but smaller than the Polaris). There are 39 passengers so it isn't nearly full.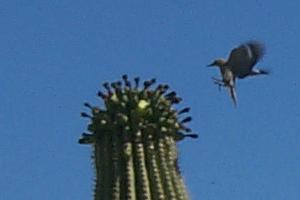 Mockingbird and Cactus
๑ ๒ ๓ ๔ ๕ ๖ ๗ ๘
---