Day 5: Isla San Marcos
Old Man Cactus

This morning we anchored off of Isla San Marcos having travelled south through some open gulf water all night (meaning it was kind of rough). This morning we opted not to kayak and instead took a hike up an arroyo to see some flora and fauna.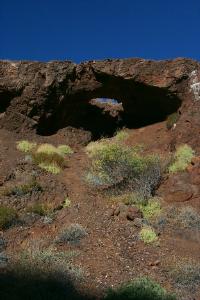 A Natural Skylight

The fauna included a few small lizards and a couple of types of birds including some hummingbirds. The arroyo is cut during rains and is deep enough to offer shade in many parts (especially so early in the morning) as well as a good walking path. We saw a few different plants than on Isla San Estaban. We saw the old man cactus which has brushy needles only near the top. Also we saw the palo blanco a relative of mesquite and big red bull. There were some plants with pretty yellow flowers as well as things we had seen before like jojoba, palo verde with its green stems (and this one had some small leaves), and cardon cactus. On the beach there were about 20 turkey vultures hanging out near the rotting corpse of a dolphin. There were also some decayed moray eels on shore.

Later in the morning we went snorkeling. We were let off at a secluded little hideaway kind of beach amid some great rock sculpture. There was a pretty rock arch near the opening and to snorkel you had to go in a cave with a window open to the sky that led under another rock arch to more open water.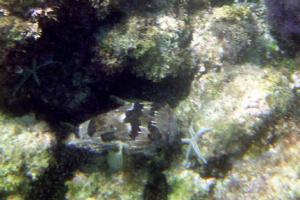 Slightly Inflated Puffer

There were lots of fish including many sergeant majors, damselfish, parrotfish, king angelfish, a coronet fish, a blown up puffer, and maybe some big (comparatively) groupers that hid in the rocks before I could get their picture. There were also some stingy things in the water and I got the worst one just as I was wading to put my snorkel stuff down. It was nice having my glasses in my mask but eventually they got foggy and I came in after about 30-45 minutes of snorkeling.

After lunch the plan was to cruise around looking for whales and they were spotted not too long into our siesta. There were about 10 sperm whales spread out over a large area and some appeared to be mothers with their young. You could see 5 or more spouts at once. It was difficult to get good pictures though I got a few including a couple of tail flukes (on the home page). They sent out a zodiac and Mike, the underwater specialist, snorkeled with the whales and took video footage which he showed us at that evening's recap. At one point he saw some more pilot whales and filmed them in today's clearer waters. We also encountered a turtle just off the bow while we were drifting. For a while longer Susan and I sat in front of the bridge watching spouts and flukes and seeing the occasional fish or ray jump out of the water.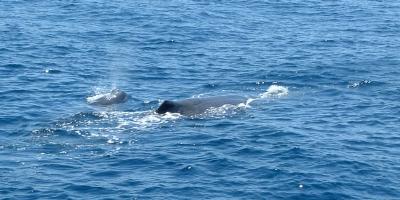 Spouting Baby Sperm Whale and Parent
๑ ๒ ๓ ๔ ๕ ๖ ๗ ๘
---
June 2 Expedition Report by Lindblad