Day 7: Isla San Francisco and Los Islotes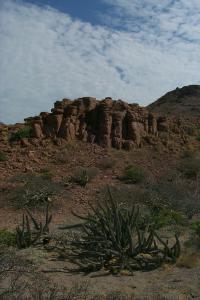 Sour Pitahaya and Rock Outcrop

This morning the boat was going to be passing Punta Colorado at sunrise which promised to really highlight these red cliffs. Although we have had some dramatic landscapes Punta Colorado was a disappointment with the sunrise partly obscured by clouds. I went back to bed to wait for the 7:00 wakeup.

After breakfast we approached a protected inlet on Isla San Fransisco. Unlike most of the rest of the trip there were several small boats anchored in here as well though they mostly cleared out when we arrived. Kayaking was offered but we opted for a hike that would take us along a ridge that led to the tops of cliffs that faced out towards the Gulf. On our way up we passed through a salt flat with pickleweed (iodine bush), a plant that can grow in salty soil storing the salt in thin pickle pods. These can be eaten but are very salty. On top of the cliffs the view was dramatic and you could see over the bays on both sides of the island as well as the fragmented cliffs that look like they will fall into the ocean any minute. By the time we got back down it was too late to snorkel so we just sat on one of the nicest beaches we've seen for a while until we were ready to go back to the boat. While we were waiting two men from LA who were on one of the anchored sailboats stopped by to talk and ask us about where we had been.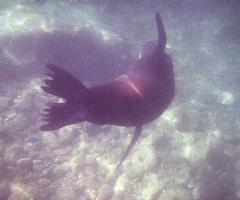 Flying Sea Lion

After lunch we headed towards Isla Espiritu Santo just north of La Paz, our destination after dinner. Near the island is a rock formation called Los Islotes where sea lions live that would be our last chance to snorkel. On the way there a whale was sighted. It turned out to be an adult and a smaller bryde or sei whale (nobody seemed to be sure though they were leaning towards sei). We had seen some dolphins earlier but only in scattered pairs. We watched for a while and I got a couple of pictures, but without the whale coming right up to the boat you just don't see much of them above water.

On the sea lion rookery someone said they saw an elephant seal, but I didn't see it. When we went snorkeling a sea lion swam right under Susan and me. There were a few different kinds of fish including surgeon fish but the water wasn't real clear and there were stingy things (hydroids) in the water which got Susan in a few places and me on the chin.

After we returned from snorkeling, the ship headed for La Paz, our last stop. It was tricky winding through their waterfront but we wound up tied off to a dock right in the middle of town. By then it was after dinner and we had packed so Susan and I walked around town some. It was like being in Mexico for the first time of the trip. La Paz seemed like a nice small town, but there wasn't that much that was interesting so we headed back to the ship to get some rest before a very long travel day on Saturday.
| | | |
| --- | --- | --- |
| | | |
| Triggerfish | Surgeonfish | Lots of Fish |
๑ ๒ ๓ ๔ ๕ ๖ ๗ ๘
---
June 4 Expedition Report by Lindblad