Day 8: The Trip Back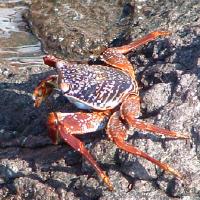 Sally Lightfoot Crab - Day 6

Day 8 wasn't much of a day in terms of seeing stuff so I'll include some pictures that I couldn't fit in anywhere else.

We were docked all night in La Paz. We went down for breakfast the next morning and said goodbye to the people who wouldn't be taking the bus to the Cabo airport. One person had even booked the return trip on the Sea Voyager back to Guaymas.

We had to be matched up with our luggage on the dock before they put it in the bus. It was a surprise seeing Enrique and Daniel back working! They had always been fellow passengers but now they were taking all the bags and putting them on the bus. On the way to Cabo they would talk about the area and some of the different things we were seeing out the window.

We got to the airport so early that our flight wasn't even shown on the board yet. Cabo has a much larger airport than Guaymas. The clientele was definitely a little rough and it made me glad we hadn't spent any time in Cabo with tourists that looked like they belonged in Las Vegas. After a couple of hours our plane finally arrived. It was a real airliner.

The longest layover of the day was Phoenix where we would spend three hours waiting for our flight to Atlanta. While we were at the airport we found out that Ronald Reagan had died. We got a little newsletter summarizing the news every day on the ship, but this had just happened on Saturday.

The flight back to Atlanta seemed very long, partly because I didn't watch the movie. Also there was an unruly passenger on the flight that Susan thought was a man but I guessed was a woman.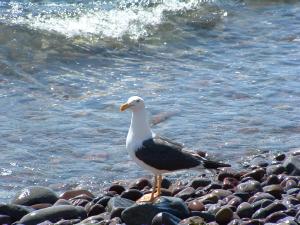 Yellow-legged Gull - Day 1

She thought she was being wronged by being seated in the back of the plane and literally ran off the airplane to tell the people at the desk she needed to sit in the front.

With all the travelling and layovers plus the time change, it was 1:00 AM when we arrived in Atlanta. I didn't think the Atlanta airport ever had a slack time, but not only does it get slack but the airport practically closes down. They told us the trains between concourses were not running a regular schedule and one would wait for us to take us to Baggage Claim otherwise it would be a mile and a half walk from Concourse D. We had to wait for all the passengers plus the flight crew but the train made no stops until we got to Baggage Claim. Once we were there our carousel was the only one running and we seemed to be the only passengers in the whole airport. I went to get the car and when I drove up to the terminal there were only three other cars waiting outside. The world's busiest airport!


๑ ๒ ๓ ๔ ๕ ๖ ๗ ๘
---