May 29 Bartolome and Santiago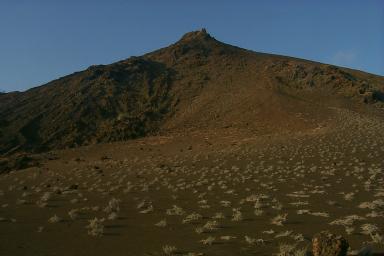 Bartolome's volcano

Our pre-breakfast trip was a hike up to the top of Bartolome Island. This island is a fairly recent volcano with very little vegetation. There are some great volcanic features like spatter and cinder cones. Also some neat looking pumice rocks and ropy lava.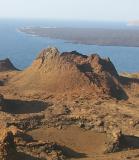 Spatter cone

Wooden steps lead up to the top to avoid wear on the fragile volcanic soil. Carlos said this is the most visited of the Galapagos Islands, partly because it is so close to Santa Cruz that people who don't like boats can make a day trip from there. The view from the top was very good, looking over to Santiago which was connected to Bartolome over a hundred years ago before a big eruption.

Not much wildlife there but we did see the indigenous lava cactus, taquilia, and some type of petunia. Also lava lizards.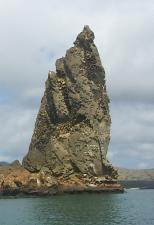 The Pinnacle

One neat feature of this island is called the pinnacle, a tall knife blade lava formation.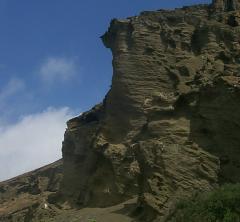 Lava cliff

After breakfast we went back to Bartolome to enjoy the beaches on either side of a small isthmus. On the approach to the beach Susan and I got our own panga and the captain pointed out a penguin lying on the rocks. We saw white-tipped sharks in the water 10 feet from land but were not allowed to swim there and had to be careful where we walked because it is a favorite turtle nesting ground. You could see tracks where turtles had laid their eggs the night before.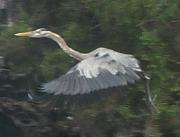 Blue heron

I didn't see it, but a baby turtle emerged from one nest and was picked up by a hawk who dropped it closer to the water. Everyone went to look at it and it went off into the water.

Saw a blue heron, frigate birds, and an oystercatcher. A pelican flew by with twigs in its mouth and then dropped them on the area where it must be nesting up on a volcanic cliff to arrange later and avoid a landing and takeoff.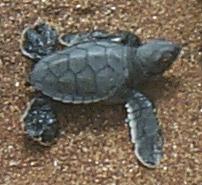 Turtle hatchling

Another turtle emerged from the sand but everyone was so close the hawk had to stay a few yards away. The baby turtle crawled all the way to the ocean.
Turtle foes: hawk, frigate bird, shark
Once it was having a hard time getting around a rock but we weren't supposed to help the turtle in any way (it helps them fill their lungs to exert themselves some on the way into the water) but Lucho said if we asked him what kind of rock it was he would have to pick it up to examine it. So we asked him about the rock and he picked it up to examine it. The baby turtle then got stuck at the next rock so Susan said "No, I mean that one" and Lucho picked that one up too. A frigate bird made a dive at the turtle as it swam off but we don't know if it got it. Between the hawk, frigate birds, and sharks turtles born in the daytime don't have much of a chance. Typically they emerge at night.

The swimming at the other beach was very good and some puffer fish came over to check us out as we stood in the cool water.

Santiago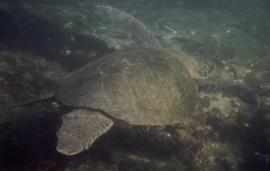 Green Sea Turtle

In the afternoon we went to Puerto Egas on the island of Santiago. Other than Santa Cruz yesterday this was the first place with obvious signs of man. As recently as the 60's this island was in use extracting salt from a volcanic crater that acts as a natural evaporation bed. Therefore we saw the frame of a house, fence posts, and water tanks.

There was a baby sea lion nursing on the beach when we arrived. Other sea lions swam in the water. Snorkeling featured some neat underwater lava formations. A sea lion swam right by Susan. We saw a small shark and then a full-grown green sea turtle swam directly underneath us. I hope we get some good pictures of it.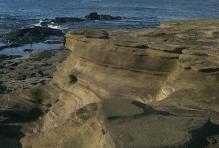 Lava sculpture

Afterwards we took a hike along the shore and saw more sea lions, marine iguanas, oystercatchers, petunias and morning glories and a species of rosemary endemic to Santiago.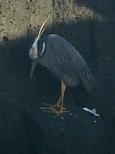 Yellow-crowned Night Heron

Further on we saw more very cool lava formations including an area called the grottos consisting of cavities that the ocean washes in and out of. In this area we saw a yellow crowned night heron, lava heron, and some galapagos fur seals (though they are actually in the sea lion family). These sea lions are smaller than the sea lions we had been seeing all week long with thicker, lighter colored fur. The tour book we've been reading described a yellow crowned night heron in exactly the same location we saw the one today so apparently he spends a lot of time there.

Lindblad's Daily Expedition Report



| | | |
| --- | --- | --- |
| | | |
| Damselfish | Parrotfish | Yellowtailed Surgeonfish |
---
| Baltra | Espanola | Floreana | Santa Cruz | Bartolome | Fernandina | Genovesa |