May 30 Fernandina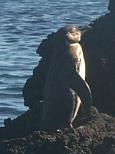 Penguin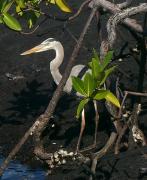 Heron

We went on a zodiac tour this morning. Fernandina is considered the most pristine of the Galapagos Islands and access is very limited. While on the tour we saw about 10 penguins standing on the rocks or floating in the water and looking down for fish (snorkeling). Also saw some flightless cormorants. Both of these species are very rare: 500 pairs of penguins and 900 pairs of cormorants in the Galapagos (therefore the world). Saw a lava heron and a great blue heron up close. Saw a lot of sea turtles poking their heads up out of the water. Also sea lions and nesting pelicans.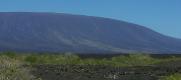 Lava colors

The volcano itself is very pretty with many different colors running down its side: black represents newer flows, brown and gray are older flows, and green represents flows so old that vegetation has re-established.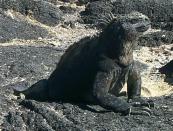 Marine iguana

After the boat tour we went on a walk and saw a lot of ropy lava formations. Also Fernandina has some of the largest marine iguanas in the archipelago and they were heading to the water to eat. We went over to an area where there were nesting cormorants.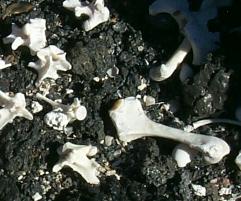 Iguana bones

Because they have no oils like most sea birds their feathers get saturated. So they swim lower in the water and stick their wings out to dry when they get out. During the last El Niño much of the algae that the iguanas eat died out. Many iguanas died of starvation (one reason they move so little is they can't afford to use energy unnecessarily) and their bones were scattered over the lava.

We returned to the ship to put on wet suits and get snorkeling gear. On the west side of the islands the water is noticeably cooler and the wetsuits were welcome even though we've done without the last couple of outings. Saw a couple of sea turtles and also swam some with the sea lions. We did not see any iguanas feeding on algae underwater though. Some people saw penguins swimming but they weren't close to me.


As the last couple of people were getting in the zodiac we got a notice from the Polaris that there were a pod of dolphins swimming nearby.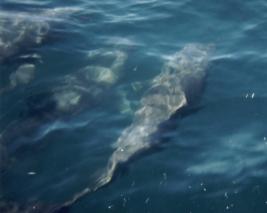 Dolphins near the bow

We motored over and caught up with them. Soon we were in the middle of them and we got out to swim with them. By that time they were already gone though. When I put my head underwater I could hear their whistling. Our zodiac pursued further without us and Susan, who had not jumped in with the rest of us, was able to jump in with the dolphins. One swam right under her. We then all got back in the zodiac and chased them some more. They liked to stay just ahead or to the side of the bow, but it was hard to get pictures of them since they move so fast. There must have been nearly 100 bottle nose dolphins in the pod.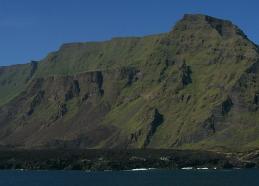 Volcano Ecuador

In the afternoon we headed up the coast of Isabela Island, passing by Volcano Ecuador. This large shield volcano at the Northwest tip of the island is unique because half of it collapsed into the sea, presenting us with a cross section of a large volcano and allowing us to see inside the caldera. While we were out looking at the landscape, we were also on the lookout for whales which frequent this area as cold rich water is brought to the surface when the currents hit the islands. We saw a whale spout a couple of times but never got a great view of it. Because of the dorsal fin the crew guessed it was a Bryde whale, but it may have been a Sei whale just as easily. Also we saw the fin of a mola mola (sun fish) and a large galapagos shark. Susan saw the body of the shark just under the water, but I just saw the fins. Also during this time we crossed back north of the equator. By Navy tradition, crossing the equator at sea makes you a shellback (instead of a polliwog).

We then went around Roca Redonda, a flat-topped outcropping that is home to many sea birds before heading far east to Genovesa Island for our last full day.

Lindblad's Daily Expedition Report



---
| Baltra | Espanola | Floreana | Santa Cruz | Bartolome | Fernandina | Genovesa |