May 28 Santa Cruz
Arrived just after midnight in the bay off of Puerto Ayora. There were big swells that tossed the ship the most so far.

We took the pangas to the dock of Puerto Ayora where buses waited to take us to the Charles Darwin Research Center. The center is responsible for scientific research and works very closely with the park service. At the center they raise tortoises for repatriation back to the islands where they belong. Just about every island had its own race of turtles at one time. Some are now extinct. In the biggest recovery effort all turtles that could be found on Espanola were moved to the center. Unfortunately the only two males in the colony were not sexually active. However a male from Espanola was found in San Diego's zoo and moved back here. Spry at age 70 "Diego" has been quite prodigious and in the last 30 years has sired thousands of turtles that have been sent back to Espanola or are still waiting to get large enough to move back. Another turtle nicknamed Lonesome George is the last of his race (on Pinta). Already 70 years old he could easily last another 100 years. It was during a worldwide search for a mate for George that Diego was found.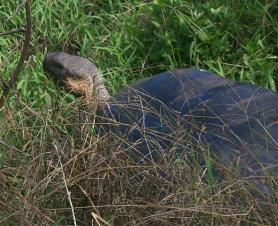 Tortoise

We bought t-shirts at the Darwin center and the National Park Office then walked through town picking up more trinkets along the way.

For lunch we went up to a restaurant in the highlands. Afterwards we got on a bus and went to a farm on the border of the national park. The owner of the farm charges the tour boats to bring people out and had already scoped some locations of Galapagos tortoises. We saw 4 altogether. Apparently they were migrating. I have no idea how they're able to migrate through a farm that is surrounded and partitioned by barbed wire. They can travel up to 1 km per hour but the ones we saw weren't budging. They are easily tracked by following the trail of mashed down vegetation.

Two tortoises

After that we went to look at two "pit craters" which actually turned out be sink holes caused when hollowed out volacanic vents collapsed. While there we also saw some interesting birds including the woodpecker finch which is one of the few animals to use tools. It grabs a twig and fishes insects out of trees, apparently even storing twigs for later use in its favorite trees.

Also saw some other birds in the highlands including the smooth billed ani (cuckoo family), cattle egrets (and cattle, chickens, and pigs), blue winged teal, horned owl, tree finches, and (maybe) vegetarian finch. A few frigates and boobies down at the dock.

Not a big picture-taking day, but still informative and it was nice shopping for t-shirts and keepsakes.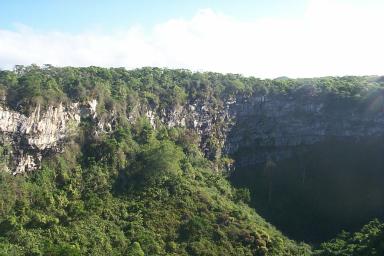 Pit Crater

Before dinner Roslyn Cameron of the Darwin Center talked about their work. They have killed 30,000 goats just this year on Santiago having recently finished off the last of the pigs. They will use "Judas goats" fitted with radio collars to join up and expose the location of the few hundred remaining goats. The Judas goats are painted with orange horns so the hunters know not to shoot them. Lindblad funds much of the work on Santiago which they have adopted.

Kind of a sad day seeing how man has screwed up so much of this island with his pets, livestock, crops, and settlements. Everything else we had seen has been so amazingly pristine.

Lindblad's Daily Expedition Report



---
| Baltra | Espanola | Floreana | Santa Cruz | Bartolome | Fernandina | Genovesa |