Thai 92 Ten Year Reunion at Corolla, North Carolina
We rented a beach house on the North Carolina Outer Banks for our reunion. Hurricanes didn't even dare to intrude on our get-together and we had nice weather just about every day (also rained just about every day). We were across the street from a pretty white-sand beach. Attending were Marci & Mike; Donna & Jud; John, Aimee, & Aiden; Jim Hubbard, Rachel, & Sophie; Sam, Jim, & Emma; and the kohn dios of Barry, Becky, Mike, and Ted. Not only did no one kill anyone else but everybody wanted to do it again, leaving the burden of planning on the Coloradoans.

Instructions:If you have any pictures to add, please either send me a copy by mail or scan it and e-mail it to me. I will add any pictures I get. Click on a picture for a bigger version. To save a picture, right-click on it and select Save Image As . . .

The original of each picture is twice the size of the the bigger version. Due to space limitations I couldn't upload the originals (about 300-500k each, 1536 x 1024 pixels), so if there are ones you want, please send me an e-mail and I'll send them to you.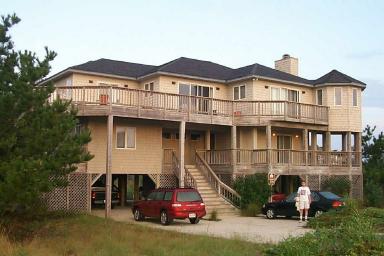 Go back to Ted's home
---
Last modified: 5 September 2000