Connecting the iPod to Your Sony Car Stereo
Sony car stereos use a Unilink system to connect with external devices. This consists of standard RCA inputs (red and white like on your home stereo) and a Unilink cable (black cable with a round end, not standard). The RCA inputs alone typically will not work without the Unilink cable communicating with the device. Note: This guide has become quite out of date. Newer Sony head units have an auxilliary jack, so this guide is best suited for older systems. I don't even have this iPod, car, or stereo anymore.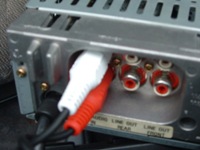 Back of head unit. Unilink cable at lower left.

Some Sonys avoid the necessity of adding a converter by accepting RCA input directly through the jacks in the back as long as you don't have anything else hooked up (like a Sony CD changer). This feature is called "aux lite" and is available on mid-level and above units. If you have aux lite and no CD changer, all you need is a RCA to 1/8" headphone cable (also called a Y connector and widely available, Radio Shack part no. 42-2551) to connect your iPod to the back of your Sony car stereo. You just press SOURCE until the display says "AUX" (see chart for a rough list of models that have AUX Lite). Some newer Sony head units have an input jack right on the front which means you can connect using a widely available 3.5 mm dubbing cable, also called a 1/8" or mini cable.

FM Transmitters ($20-$40). You could try an FM transmitter. There are many that are available at local stores and online. I tried a couple without much success due to static from other stations. You could try the iTrip by Griffin (lists for $50, $15 for iPods, $10 for the 1G nano at Amazon; in some browsers you can see a product preview of things at Amazon by holding your cursor over the link) which will transmit over any frequency or the Belkin TuneFMs ($50, $44 at Amazon), which also provides power from the lighter socket, but whether these work for you just depends on local conditions. Also the sound quality will never be better than FM radio.

FM Modulators ($20-$40). Instead of broadcasting over the air like an FM transmitter, these run a wire directly to the antenna of your head unit. This way the signal overpowers any other signals and the sound quality should be good as long as you avoid ground loops that can cause buzzing.

Cassette adapters ($10-$20). I tried this for a while since I have a cassette player. The sound is better than an FM transmitter (you should play the iPod through the headphone jack with the volume at about 70%), but I had two cassette adapters go bad on me because there are moving parts involved. For best sound quality you need a direct connection to the stereo.

The Sony Solution
Sony has replaced the widely disliked XA-110IP, $50 ($11 at Amazon) with the XA-120IP, $50 ($39 which is compatible with the HD radio receiver, but Sony says it only works with 2006 models and newer (does not work with CDX-CA650X). It charges and controls the iPod and shows track info on the head unit, similar to some of the third-party solutions below, but won't work with a CD changer unless you buy another Sony adapter. It is too early to say if people are happier with it than the XA-110IP.

Here is info about the XA-110IP: Some people have been getting this item to work with models slightly older than 2006. To have text show up on the head unit (and that is essential since the iPod screen stops working) you would probably at least need Unilink and support for CD text. Using it with older models can cause the head unit to reset (see more reviews at Crutchfield) (note: vistors have told me it works with the CDX-F7700 and XR-CA350X; does not work with the CDX-MP40, CDX-C760 and CDX-NC9950)

To hook up more than one device to the head unit you need to buy splitter boxes like the XA-C30, XA-C40, XA-U40, and XA-U20. They only work with other Sony unilink devices. Sony developed the XA-300 Aux In Selector, $85, to accommodate non-Unilink input (like MP3 players, Satellite, DVD, notebook computers, etc.). It has 2 RCA inputs plus a USB input plus a Unilink pass through (if you have an external Unilink device already). The predecessor was the XA-107 which lacks headphone output, USB, and has only 1 RCA input. I wound up buying the XA-300 from Crutchfield in May 2005 for $90 after I found a $10 off coupon that included free shipping.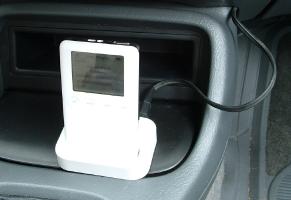 1/8" cable connected to iPod dock

Some have reported that you must have a CD changer to use the XA-300, but I tested my XA-300 without the changer hooked up and it worked fine (better, in fact since it puts the iPod on its own source. If you have a CD changer all of the auxilliary inputs and the CD changer will be on the same source and you switch between them using MODE. I "installed" mine in the glove compartment since I couldn't find any room in the dash and then ran a Y-connector from it and out of the console to hook up to the iPod. Sony recommends installing it under the passenger seat but I didn't want to have to take apart the center console and carpeting. Alternatively I can now leave the iPod in the glove compartment and control it via a Griffin AirClick remote ($35, $20 at Amazon for the 3G and 4G version, $40 for the 5G).

Now that I have a XA-300 auxilliary input adapter, here's a review: it's an expensive piece of hardware for what it does, but cheaper than buying a new stereo and a better solution than cassette adapters or FM transmitters.
Sony XA-300 fits in the glove compartment

I think I got better volume from the cassette adapter while this adapter does best over the Line Out from the dock (or some car adapters such as the Sik Imp and Sik Din). Also, while I'm playing AUX1, the display just says AUX1. With my Sony model, at least, I can't change that display to, say, IPOD. In fact it won't even show the clock. With the other sources like the cassette deck, radio, and CD changer, you can choose to show the time by pressing DSPL, but that doesn't work with AUX sources. The unit is smaller than it looks in the pictures and it comes with a set of RCA cables and a Unilink cable as well as some stick-on velcro tape which I didn't use. It allows two AUX inputs (so you could hook up Satellite, DVD player, or laptop as well). It also has a USB port that allows you to connect a laptop (the laptop should recognize the XA-300 as an external speaker; the USB port can't be used with the iPod), maybe for playing sound from a DVD or MP3's from your hard drive. Also there is a headphone jack which makes no sense to me.

The Hacker Solution
Head unit display indicates "AUX1" when iPod is playing through the XA-300

If you have a Unilink CD changer (or other Unilink accessory) installed already one way around the system is you just use RCA splitters (Radio Shack Part 42-2620) and play a CD filled with silence.

If you don't have a CD changer already there is a group of hackers who developed a card with a processor (that you make) and programming that will interface with the Sony and fool it, but essentially it can't be easily hacked. There is a lot more information about the Unilink specs here. An Ebay member, soundfxcaraudio, sells a cable with a unilink DIN end and the other end is a headphone jack. They claim it is for Sony equipment, but it doesn't work with Sonys because the Unilink cable doesn't carry the music signal. Apparently the cable is designed for other systems like JVC.

Third Party Solutions
PAC makes a dongle that connects to the Unilink port and makes it okay to connect any external source to the RCA input jacks. It fools the head unit by pretending a Sony Unilink CD player is connected.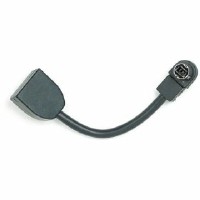 PAC Unilink Enabler

So you would still need an RCA splitter and it doesn't control the iPod directly, but this is a great simple solution ($30). The similar Autoleads PC7-100 also allows AUX input by spoofing a CD changer, but seems to only be available in the UK.

Most of the adapters available at Amazon are sold through Crutchfield and their website has more info and user reviews than Amazon.

If you have anything to add to this guide please contact me and I will post comments and questions here or revise the guide as needed. Thanks.
---
Other iPod pages: battery replacement, home-made iPod battery pack and tests
Return home
Last modified: January 16, 2012